Posts tagged
Jewish
0
A few weeks ago, my friend Amy Klein published this piece in the New York Times' Modern Love column, about seeking a blessing to marry from a rabbi in Israel.
I might have stopped being Orthodox, but its indoctrination had left me with the sense that nearly anything — God, spiritualists, healers, psychics and witches — might be equally possible. Thus I found myself in an airless Jerusalem classroom with this old rabbi, who had a white beard so long I couldn't see his mouth and glasses so thick I couldn't see his eyes.

"Yes, I want a husband," I admitted aloud for the first time.
0
"Should you Google-stalk your dates?" and other questions answered by CyberDatingExpert's Julie Spira, in this Jewish Journal interview.
Special kudos to JJ writer Ryan Torok for venturing in front of the camera to have Julie assess his online dating profile. It takes a brave man to do this for the sake of journalism…
What burning questions do you have about cyberdating? If you submit them here, I'll try to snag some answers from Julie or another expert…
0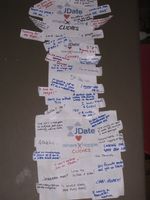 (A longer version of this piece appears at MyUrbanKvetch.)
Recently, Jews observed the holiday of Purim, which thematically centers on disguise, withheld information, and political intrigue. To commemorate these themes and celebrate the inner parts of our lives that we might not always feel comfortable expressing, Jews traditionally dress in costume. Some costumes are fun, or (taking a cue from secular cousin Halloween) present an excuse to sex it up a little, at least for the one day. But if the theme was exposure and honesty, my costume choice was clear: I would become the clichés that people write (over and over again) in their online dating profiles.
How would I do this? Could I wear "a little black dress and jeans and a t-shirt"? How would I visually manifest "working hard and playing hard"? Should I get a fake arm, throw it around my shoulder, and label with a sign that says "my ex – but don't worry, he's out of the picture"?
I started with the little black dress, and attached to the front of the dress a whiteboard of sorts – then let people add their own clichés via stickers. And then the public art/commenting phase began. Afterwards, I knew I needed to analyze this piece of public commentary for the audience of online daters and beyond, so that we can all learn to be ourselves and not clichés.
Alongside "work hard and play hard," "I like a fancy night out, but also a night in," "friends and family are important to me," and "a perfect date is when you don't want it to end"- as well as "looking for someone with a good head on his shoulders," which was scribbled on a sticker in Hebrew – were several categories of clichés:
The Blame Game: These comments blame someone else for your presence on JDate, usually a parent or a friend. "I never do this," "I can't believe I'm on JDate," "my friends made me join." However you got here, you're here and so is everyone else, so get over it.
"Duh" statements: "I love travel and sushi," "I love to laugh," "communication is the most important thing," and "love to hike and bike." They don't really tell you anything about the person in question: it's like saying "I'm a carbon-based lifeform who enjoys breathing oxygen and locomoting bipedally" (except less interestingly). And as for "my mom thinks I'm a catch," we're so glad for you, and are certain that this focus on your mother during a search for a life partner is not at all negatively influencing your results.